News
Undergraduate Students of UC Merced,
This year ASUCM created a strategic investments committee composed of the President, Treasurer and members of the Senate. This committee was tasked with finding ways in which ASUCM would have the opportunity to engage in cross-campus collaboration with various campus departments.
On April 14th, 2015 the ASUCM senate passed a resolution supporting the California High-Speed Rail Authority's mission of implementing a high-speed rail system that is designed to reach speeds over 200mph and transport travelers from San Francisco to Los Angeles in under three hours.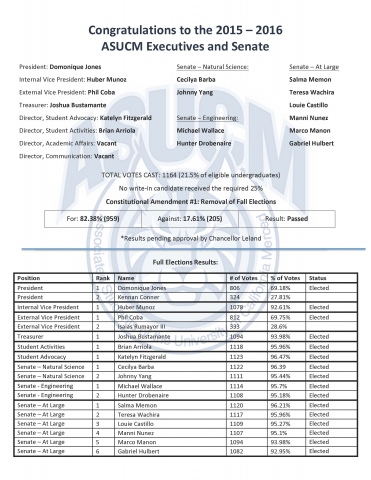 Good Morning Campus Community,
The Associated Students have published a semi-annual report showing the work the orgainization has done this past semester on behalf of students.
Pages
Resources
UC Merced
The first new American research university in the 21st century, with a mission of teaching, research and public service.